Major Botticelli showcase to set records
Share - WeChat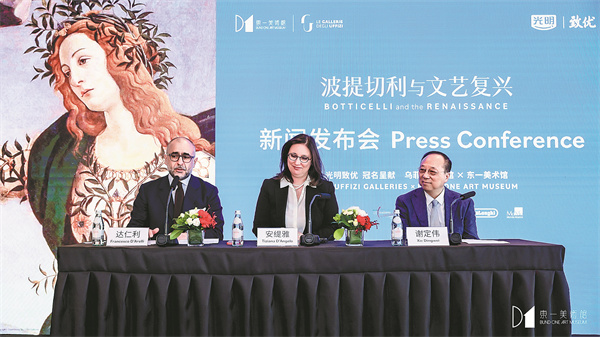 The Italian consulate in Shanghai and Tix-Media announced on March 16 that an exhibition on Sandro Botticelli (1445-1510) and other Renaissance masters will take place at the city's Bund One Art Museum from April 28 to Aug 27.
The largest Botticelli exhibition to be held in China, Botticelli and the Renaissance, will showcase 10 original paintings by the master and 38 by his contemporaries from the Uffizi Galleries collection in Italy. Most of the artworks will be making their first public appearance in China. The important mythological painting Pallas and the Centaur and the biblical work Adoration of the Magi will be among the Botticelli pieces on show.
Xie Dingwei, general manager of Tix-Media and executive director of the Bund One Art Museum, says the most celebrated Botticelli creations — Birth of Venus and Primavera — are not permitted to leave Italy. As such, the museum requested and received authorization from the Uffizi Galleries to showcase high-definition copies of the two artworks in Shanghai. Each of the copies were made from more than 1,000 photographs of the original paintings.